Fitness shouldn't be complicated. We all want to feel comfortable in the gym. We want to be able to walk up to equipment and begin using it immediately – not be the person in one of those viral fitness fails videos!
Now – after the shock wears off from that AMAZING meme, you are going to want to read our Brand Spotlight for this week and what brand's products makes them the leader in quality, safe, effective, and easy to use functional fitness equipment in today's industry.
Hyperwear
Simple. Powerful. Gear.
Simple: These products aren't complex – what you see is what you get. They let your body move the way it is designed to while you exercise.
Powerful: From athletes all the way to children, they are that simple to use. But don't let that fool you – they pack a powerful punch! Their unique design requires they user to engage more muscles than your everyday lever and pulley machine.
Gear: Designed to be safe to use and more effective in getting better results in a shorter amount of time than your traditional fitness products.
---
SandBell
 Helps build stronger grip and burns more calories in the process.
Safe on floors, creates less noise when dropped, and will not roll away like traditional dumbbells.
Available in 10 different weight options.
Lucky for us – Hyperwear even has an extensive YouTube video selection that shows all of the different exercise options to do with their products, but I picked a few of my favorite to make it a little easier on you!
Try this on for size – Slurpee (Slam + Burpee = Slurpee) because we all love burpees (said no one ever!)
Who needs a shrink when you have a SandBell? For a little couples therapy – perform with a partner: 12 minute workout (4 workouts – 1 minute each – 3 rounds NO BREAKS!)
SandBell Rotation Pass
SandBell Slam Burpee Pass
SandBell Squat Pass
SandBell Russian Twist Pass
To learn even more about the product just click here >> SandBell
---
SteelBell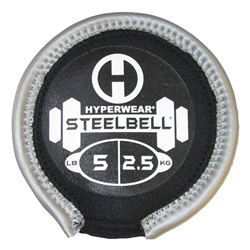 Filled with tiny balls of steel.
Helps improve overall performance and challenges muscles like never before.
Available in 8 different weight options.
The SteelBell acts like a live weight because the small steel balls inside move around more quickly than the sand you have in the SandBell.
Anything you can do with the SandBell – you can do with the SteelBell. So grab your weight option and give this total body workout a try by Hyperwear's Master Trainer Britny Fowler… the substitution of the SteelBell will take this exercise to a whole new level!
To learn more about this product click here >> SteelBell
---
SandRope
Get the high intensity cardio, strength building, and fat burning benefits of battle rope training – but with less space.
No anchor point needed.
Available in 2 different weight options.
Rope training is growing more and more popular because with just one product you can get a full body workout.
Want to work on your core? Give these exercises a try:
SandRope Windmill
SandRope Single Slam
SandRope Squat
SandRope Pushup Walk
Or you can anchor your SandRope and perform traditional battle rope workouts, such as:
Double Wave
Alternating Wave
Power Slams
Alternating Wave Lunge Jump
Don't let battle rope training fool you, when you see it, you are saying "That doesn't looks so hard," but trust me when I say, it won't take you long till you are sucking wind and feeling the burn!
To learn more about this product click here >> SandRope
---
Shoutout to Hyperwear and their awesome YouTube channel! Want to watch more? Just click the logo below: