According to ACSM, Yoga is predicted to be one of the Top 10 fitness trends in 2015. Why is that? The short answer is it makes people feel better!
For many, that is enough of a reason to give it a try, but more specifically it:
Improves muscle tone and flexibility.
Reduces stress.
Promotes concentration and creativity.
Helps improve circulation.
Stimulates your Immune System.
Create self-awareness and a sense of calm.
Increases range of motion.
Prompts union of mind and body.
Along with all of those added benefits, yoga has a restorative aspect that complements any intense workout routine or it can be a safe entry point to fitness for new exercisers.
Still not convinced yoga should be a part of your weekly curriculum? Currently, $27 Billion is spent annually on everything yoga and this will only increase! In the last 5 years, spending on yoga has increased by 87%.
Now that we have convinced you… no matter the type of yoga you pick for your programming; Bikram, Hatha, Power, there are products that are a must for this journey.
---
Yoga Straps
Ideal for stretching and assisting with alignment.
Help increase flexibility.
Is adjustable to accommodate all users.
---
Yoga Blocks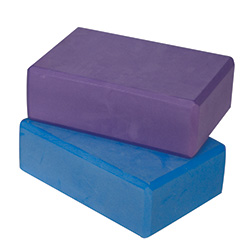 Lightweight and durable.
Perfect for additional support during transitions and postures.
Multiple sides offer various options to accommodate all types of users.
---
Premium Yoga Sticky Mats
Secure adhesive, textured surface help with stabilization.
Lightweight and extremely durable.
Cushioned to add additional support and comfort.
---
Multi Purpose Rack 
Organize and store your mats and other yoga equipment.
Large rack can hold several different products across 3 mesh shelves.
Has 4 end pegs to hold tubing and yoga straps as well.
---
Whether your members come in pursuing yoga as a recovery or as their primary way of exercising, you can guarantee they will experience a deeper understanding of themselves and just feel really good afterwards.
…Namaste…