While exercise mats might not be the flashiest, most exciting accessories that you offer in your facility – high quality fitness mats make a lasting impression on your clientele by adding to the overall member experience.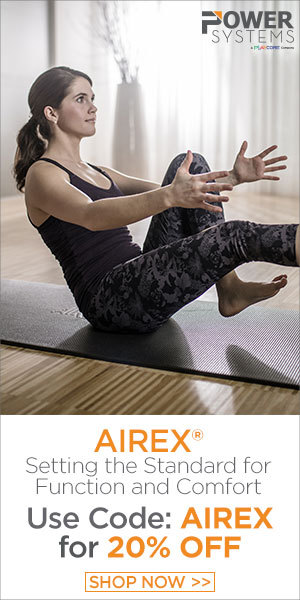 Over the past 30 years, Power Systems has partnered with some of the best in the industry to provide a comprehensive selection of products for a wide variety of health, fitness, rehabilitation, and performance goals. This week, we'd like to highlight our strategic partner, Airex, as a leading manufacturer of high-quality exercise mats and balance pads. Airex mats are preferred worldwide by fitness industry professionals and physical therapists.
Why AIREX?
Airex fitness mats and balance pads are made by using a unique, step-by-step layering process – similar to baking a loaf of bread – that produces a final product that is ideal for the fitness industry. Every exercise mat and balance pad from Airex features:
Closed cell foam technology
Antimicrobial finishing
A water-repellant, easy to clean surface
A 100% latex free guarantee
Looking for the best yoga mat? No sweat – Airex offers mats specifically designed for yoga and Pilates. Whether you are walking into a training session, a yoga class, or a physical therapy appointment – we've got you covered.
But why a balance pad? From rehab to balance training, Airex balance pads are great for kneeling or standing on one foot or two while improving stability, core strength, and joint stability. Everyone from beginners to performance athletes can benefit from the increased kinesthesia that comes from training in the highly proprioceptive environment that a balance pad provides.
Steph Curry of the Golden State Warriors made a strong comeback from five ankle sprains during his first season to become an NBA All-Star and 3-Point King.  Check out his comeback story and how an Airex balance pad has become part of his warm up and training routine.
The Power Systems/Airex partnership takes it one step further to offer our customers a 3-year manufacturer warranty on these products. When stored and cared for properly, Airex mats and balance pads are designed to withstand the test of time in high volume use. This warranty paired with the detailed manufacturing process and a trusted reputation by sports, rehabilitation, and fitness professionals, makes Airex a trusted and ideal brand partner for Power Systems.
We are proud to offer a complete selection of Airex mats and balance pads for any fitness level or goal. Use this chart to compare all the options and identify which workout mat or balance pad is best to meet the needs of your clients and facility.
Photo Credit: Airex